For brides getting married this fall, you may be in the mist of deciding on your perfect bridal bouquet. Bouquets can be important for many reasons, and it can truly set the tone and overall aesthetic for your special day.
Now a days most brides do prefer the look of silk flowers because they last all day, and can really emulate the real thing. You can also however opt for real flowers for the entire day, or use real flowers for your ceremony, and then switch to silk flowers for the remainder of the day. Your options to having the perfect bridal bouquet are truly infinite….
When it comes to actual fall bouquet ideas, many choose to stick with traditional fall colors, orange, yellow, & red and by doing so incorporating flowers that traditionally can be found those hues naturally in nature. Roses, ranunculus, peonies, and sunflowers are all great options. Look below to see some of the most amazing fall floral arrangements in action.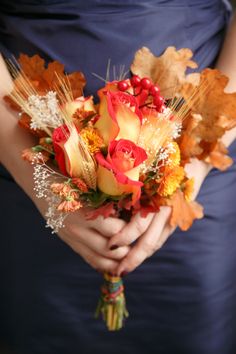 Related articles