Essie Bridal 2014 Nail Polish Collection. Brides get ready because hitting stores this June Essie will be releasing their 2014 Bridal nail collection.  Themed She Said Yes!  The collection will feature light hues perfect for the bride, as well as her bridal party. Four colors will be featured in the collection and with hues ranging from light pink, to white and blue you'll easily be able to create the perfect wedding day nails.  Plus with names like Got Engaged!, and Meet The Parents  we're pretty sure this collection will also make for a great bridal gift. Look below to see the entire collection.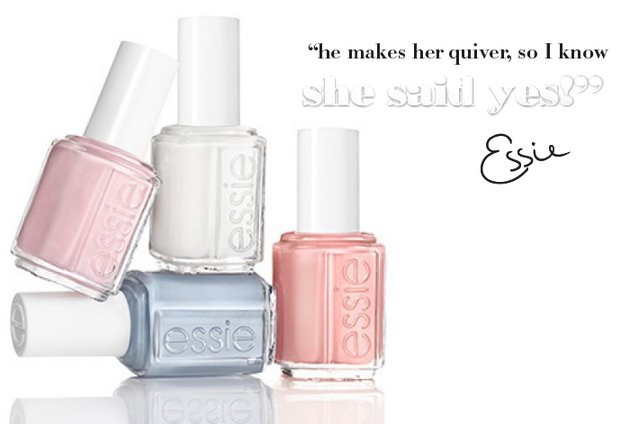 Got Engaged! – warm nude pink with tiny silver sparkle. Rock this warm nude pink with graceful prismatic sparkles and say "With this bling I'll thee wed"
Love Every Minute – strawberry coral. A 24/7 whirlwind romance calls for this absolutely irresistible duchess satin rose coral.
She Said Yes – sheer white with subtle silver shimmer. She's never looked more radiant than she does in this delicate vanilla sheer with subtle silver shimmer.
Meet The Parents – chambray blue. You are quite a catch in this cool, relaxed chambray. It's that perfect something blue that calms fiancees jitters.
Related articles