Today's segment of wedding planning includes wedding dress shopping, which I'll be the first to admit was one of the funnest parts thus far of wedding planning. Truth be told finding the perfect wedding dress can take weeks, and for some even months, and after trying on so many dresses, how is a bride to know she's found "the one".
First things first, before you ever step foot in a bridal shop do some window shopping online. Pinterest as well as The Knot should be your go-to-resources. Weeks before dress shopping I would browse dresses from the Knot, and Pin them to help narrow downs silhouettes and dress options. The Knot is a great source for finding styles that are available in your budget, as well as finding exact locations for dress selections that you may be interested in. Once you have done that it's time to start making appointments! While printing out exact dress options is a great way to show your bridal consultant what silhouettes you have in mind for the big day, have an open mind.  Don't be afraid to try on gowns that your mom may want to see you in, or that your bridal consultant may suggest for your body type. It's important to keep an open mind when dress shopping because you never know which gown may be the "one".  You should also remember your overall wedding theme as well as your venue location when hunting for a dress.
While every woman may have a different experience when finding the right dress to marry the person they love, I'll tell you how I knew my dress was "the one".  I was stuck in the middle of choosing between two different gowns, when my bridal consultant said I could take photos of both of them in order to help me decide. I loved both dresses, and I while some of my entourage loved my a-line style gown, the decision was ultimately up to me. After one of my Matrons of Honor took the pics of the gowns I asked to see them. The expression on my face in the photos instantly told me which dress to go with. For the a-line picture I was simply standing there, while in the dress I choose I have a huge grin on my face and my demeanor was much happier. I instantly knew that was my dress. There was also the fact that I didn't want to take the dress off! I walked around the store with it on, danced a little, and even ended up shedding a few tears.  Plus I could imagine my fiance face happy to see me in that gown! Obviously I won't be sharing with you my actual gown until my wedding is over, but I will however show you the dress I didn't end up going it.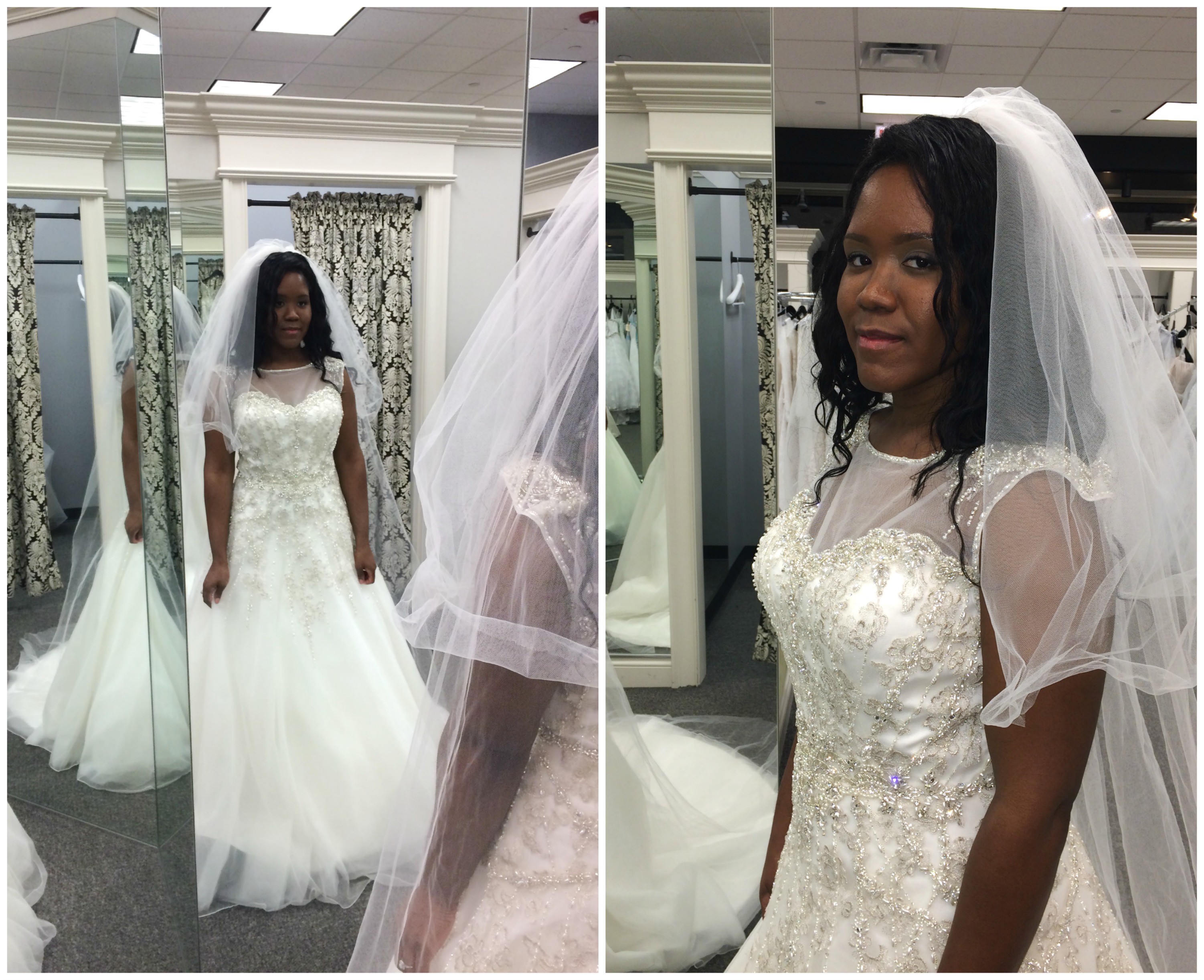 A gorgeous gown I know, but I just didn't have the same bridal moment or feeling in it as I did with the dress I choose. Always remember to go with your gut feeling when dress shopping, while others may love you in one dress, if you don't feel it's the right match keep looking. Even if it means taking more than one trip to the bridal salon. It's like choosing your fiance, when you've found the one, you'll know!
xoxoxox Danielle Michelle
Related articles