Unique Wedding Venue – Sandals Grande St. Lucian Overwater Serenity Wedding Chapel.  Sandals is your one stop wedding destination for tying the knot and enjoying the perfect honeymoon. Recently the resort created a stunning new way to get married in a romantic one-of-a -kind over-water chapel. More details on the new feature after the drop!
Sandals Resorts is excited to announce the unveiling of a new unique wedding location at Sandals Grande St. Lucian, the new Overwater Serenity Wedding Chapel. Located at the most southwestern point of the resort, the open-air, glass ailed chapel boasts panoramic views of the spectacular Rodney Bay, is the first-ever of its kind in the Caribbean.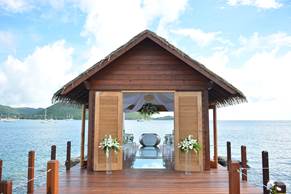 The elegant seaside décor within the chapel includes a river stone alter, polished with a silver leaf finish and a nature-inspired aisle lined by three glass panels. The layout allows guests to see the view of the water below, which will enhance the wedding ceremony with its natural surroundings. The space can host up to 20 seated guests. Couples have the choice of having either a religious or non-religious ceremony, and can be reserved complimentary upon arrival on first-choice basis.
For more information or to book a WeddingMoon, please contact our wedding concierge at 877-Sandals.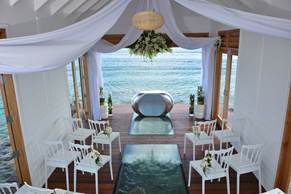 Related articles