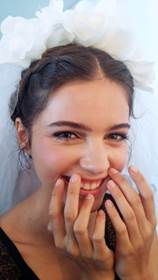 Get the Look : Bridal Nails from ZOYA At Marchesa Bridal FW 2016. Dreaming of your ideal bridal nail look for your wedding? Then check out the nails from Marchesa Fall 2016 Wedding Gown Showing!!
Marchesa
Nail Look: Soft English Rose
Lead Nail Tech: Naomi González-Longstaff
ZOYA Naked Base, Naked Manicure Buff Perfector, Sally, Bela, Naked Manicure Satin Seal Top Coat, Qtica Solid Gold
"The Marchesa Fall/Winter 2016 Bridal look is all about romance with ethereal dresses, soft rose petal nails and wispy braids." – Rebecca Isa, Creative Director of ZOYA
Details:
Nails for Marchesa Bridal replicated the delicate rose designs found throughout the collection. ZOYA Sally and Bela were layered to create the ideal blush rose shade that was topped with Zoya Naked Manicure Satin Seal Top Coat for a soft, petal-like finish. To create the glistening, dewy look on hands for the runway, manicurists applied Qtica Solid Gold with a brush along the cuticle area and down the fingers.
How To Nails:
Prep the nail by removing all traces of old polish with Zoya Remove+, shape, clean up cuticles and gently buff. To create a perfectly smooth, ridge and pit free nail surface apply Zoya Naked Manicure – Naked Base followed by one coat of Naked Manicure Buff Perfector to each nail. Next apply color – one coat of Sally followed by one coat of Bela. Seal with one coat of Naked Manicure Satin Seal Top Coat. Apply Qtica Solid Gold to cuticles and fingers as desired.