2015 Wedding Gowns Trends. Top styles in wedding dresses for the 2015 wedding season.  Let's be honest, when it comes to our wedding day we've all thought about what we would wear, and with that special day being right around the corner,  we'll need something equally as fabulous as what we saw in our dreams.
Each bridal year brings forth new wedding trends, and 2015 presents many innovative ideas that will truly wow and amaze. From new neutrals to plenty of bling and of course the LWD. David's Bridal dishes on some of the biggest wedding trends set to turn heads this season when it comes to all things bridal wear. Look below to get the inside scoop!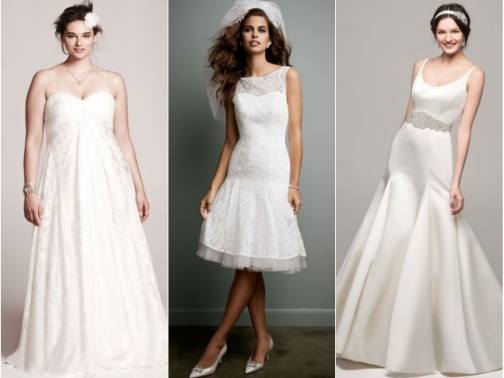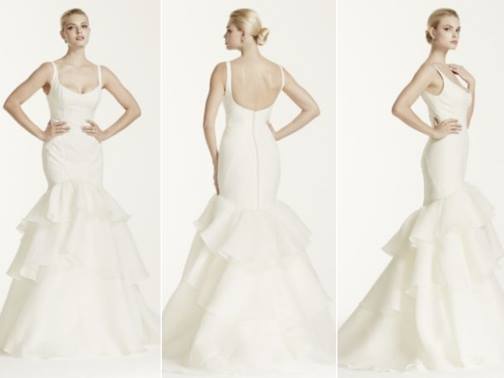 2014 certainly brought us show-stopping wedding moments, from Amal & George Clooney's glamorous Italian affair to Lauren Conrad's Pinterest-approved California soiree. So what will weddings in 2015 look like?
As the nation's #1 bridal authority, David's Bridal is offering its forecast on the bridal trends of 2015. From noteworthy color schemes to sartorial silhouettes, see below for a cheat sheet of what's hot in weddings for 2015:
· Non-Traditional Silhouettes: Look for brides this year to don red carpet-ready bridal options including crop top styles and jumpsuits in shades of white.
· The "LWD:" Clean, sheath silhouettes that are wearable for all occasions, from the engagement party to the rehearsal dinner are now the preferred choice in wedding wear. The little white dress will make a big statement this season for every type of wedding occasion.
· A New Take on Neutrals: White bridesmaid dresses made a splash last year. The latest "it" color palette is neutral metallics for that subtle yet regal look. David's Bridal is rolling out three new metallic lace fabrics in shades of rose gold, silver and champagne.
· Headpieces Galore: Headpieces will steal the show in 2015. Whether a bride chooses a dramatic cathedral veil or trendy "chain swag" hairpiece, modern-day brides are using their wedding dress as a canvas to display standout "hair flair."
· Bridal Bling: Intricate dresses from the brand's new Jewel Collection feature an abundance of dimensional floral appliqués, heavily beaded bodices and all-over mixed media fabrications, catering to the bride looking to make a statement at an affordable price.